---
From a very early age I knew how to inspire my audience ...
A young girl who annoys her mother until her mother finally does what the little girl wants. Do you know that? - My mother can tell you a thing or two about it, especially when I really wanted to go to competitive sports. During normal children's gymnastics I cried because I wanted to do gymnastics with the grown-ups, ballet was way too boring for me and I cried again. It wasn't until I was finally able to train with the competitive gymnastics group that I was happy. I finally had the challenge that I wanted. The attraction of offering a great show and freestyle has fascinated me since childhood. Other gymnasts often complimented me on the fact that I was doing gymnastics "so beautifully" to the music and that it was wonderfully aesthetic to look at.
While I was part of the national team as an artistic gymnast for years, when I was 15 at the time I was asked whether I would like to run for a fashion show. At the same time my entry into the world of modeling started. Since then I have been represented by model agencies nationally and internationally, especially in Europe and Asia. In order to develop my skills in front of the camera and on stage, I did a speaker training, an acting training and a moderation training during my economics degree. Acrobatically I have specialized in the circus discipline Aerial Silks. I love to inspire and amaze my audience.
In addition to the stage and the camera, my second passion is our finance and especially technological innovations. Mathematics has always been easy for me, while studying economics at the Vienna University of Economics and Business and the Nanyang Technological University Singapore I specialized accordingly, in order to then focus on blockchain technology and FinTech in the private sector.
But then you don't have much free time ...? It is exactly like that. I love my professional areas, I love to inspire my audience and I am fascinated by (FinTech) innovations that enrich our society.
See you soon and all the best,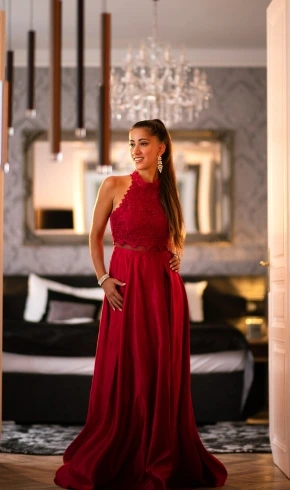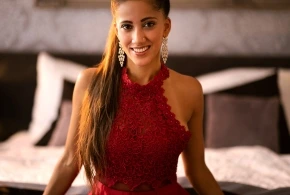 Characteristics
Favorite colors: gold, bordeaux red
Favorite animal: Bernese Mountain Dog, black panther
Zodiac sign: Virgo (date of birth: 29.8.)
This is important to me: responsibility for our society and future generations
My friends describe me as: Sympathetic and charismatic personality, who can explain complex issues in a simplified and understandable way.

Height: 170cm | 5'7"
Clothing size: 34
Breast-Waist-Hip: 89-61-90cm | 35-24-35.5"
Bra size: 75D
Hair color: dark brown
Eye color: dark brown
Shoe size:37 | 6,5"
Ethnic: Austrian | Indian
First-Aider
First-Aider: Certificate ASchG §26 2023, AStV §40 2023
---